The FOODWISE Program helps limited resource families and individuals choose healthful diets, prepare and handle food safety and become more food secure by spending their food dollars wisely.  FoodWIse website
FOODWISE provides research based education on:
Education is available for all age groups and learning abilities as well as for those who speak Spanish only.
---
FoodWIse 2021 Impact Report – Door County  read more …
---
---
Preserve It Fresh, Preserve It

Safe

   more information …
---
January's Harvest of the Month:  Cabbage    flyer
---
It's hard to beat beets!
Submitted by: Jace Purdy, FoodWIse Nutrition Educator, Extension of Door, Kewaunee, & Manitowoc Counties, 920-683-4175, 705 Viebahn Street, Manitowoc, WI 54220
 ~Beets are a wonderful Wisconsin root vegetable, packed with nutrition! (Photo: Creative Commons)
Beets are the forgotten root vegetable. Most of us eat radishes, potatoes, onions, and carrots—not beets. But this shouldn't be the case. It's hard to top the nutritional benefits of beets. Let's talk about why beets should be on your plate!
What are beets: Beets are a bright red, root vegetable. Beets are low in calories, high in vitamins. Though the root is more commonly eaten, beet leaves can be used like spinach, and added to salads or soups. USDA MyPlate recommends between 1.5-2 cups of dark leafy greens and 4-6 cups of red and orange vegetables per week.
Benefits of beets: A single serving of beets packs 2 grams of fiber, 20% of your daily folate needs, 14% manganese, and 8% of your copper, all for under 50 calories! These nutrients have important roles in heart health, bone development, and energy production. Beets are also an incredible source of dietary nitrates, which help lower blood pressure. Beets contain a pigment called betalains, which gives beets their distinct color and helps fight inflammation. A one-cup serving of beet greens is only 8 calories but packs about 10% of your daily value of potassium, an important electrolyte.
How to best enjoy: To maximize fiber and nutrients and reduce prep time, don't peel beets. Simply give them a good scrub. Beets pair well with their root vegetables cousins. Try roasting beets alongside potatoes, onions, carrots, and your favorite herbs. Or try a tasty soup: https://www.eatright.org/food/planning-and-prep/recipes/roasted-carrot-and-beet-soup-recipe Or explore a classic Borscht recipe: https://www.simplyrecipes.com/recipes/borscht/
Roasted Garden Medley
Ingredients
4 large carrots
3 fresh beets
2 medium sweet potatoes
2 medium onions
½ cup water
2 teaspoons salt
½ teaspoon pepper
¼ teaspoon thyme
1 tablespoon olive oil
Fresh or dried parsley flakes (optional)
Directions
Cut vegetables into 1½-inch pieces.  Place the carrots, beets, sweet potatoes, onions, and water in a greased 3-qt. slow cooker. Sprinkle with salt, pepper, and thyme, drizzle with olive oil. Add water, cover and cook on low for 5-6 hours or until tender.  Stir vegetables and sprinkle with parsley if desired.
Ideas: Try with your favorite slow cooking vegetables such as bell peppers or zucchini. Change up the flavorings and herbs. Add garlic or citrus.
---
Whole Grains: Good for Your Heart!
by Jace Purdy, FoodWIse Nutrition Educator
You've probably been told to eat whole grains. But what are they? Why are they important? Where are they found in foods?
What is a Whole Grain?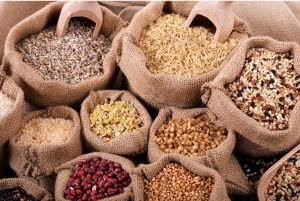 Whole grains are whole because we eat the whole thing, the whole piece of rice or corn or wheat OR we grind the whole seed into flour using all parts. Whole grain products have more fiber and important nutrients, such as B Vitamins, iron, folate, selenium, potassium, and magnesium.
Where do we find Whole Grains?
You can find whole grain versions of rice, bread, cereals, flour, and pasta on most grocery store shelves. Check the label. If the first ingredient is whole grain or "Whole Wheat Flour," that's good. The key word is WHOLE. Other common whole grains include brown rice, oatmeal, corn, popcorn, and quinoa.
Why do we want Whole Grains?
Whole grains are naturally higher in fiber and key vitamins and minerals. Fiber helps you feel full and satisfied, so you can maintain a healthy body weight. Diets rich in whole grains are linked to a lower risk of heart disease, diabetes, and certain cancers. Try making one simple swap: whole wheat bread instead of white, brown rice instead of white, or popcorn instead of potato chips. Enjoy whole grain foods AND the health benefits.
Recipes using Whole Grains:
Resources:
---
---
USDA Modernizes the Thrifty Food Plan, Updates SNAP Benefits
FoodShare benefits are based on the Thrifty Food Plan, which represents the cost of a nutritious, practical, cost-effective diet prepared at home for a family of four, which is defined in law as an adult male and female, ages 20-50, and two children, ages 6-8 and 9-11. The Thrifty Food Plan was introduced in 1975 and updated in 1983, 1999, and 2006.  Aside from the pandemic relief, there had been no increases in SNAP benefits since 2006.  On August 16, 2021, the U.S. Department of Agriculture (USDA) released a re-evaluation of the Thrifty Food Plan, used to calculate Supplemental Nutrition Assistance Program (SNAP) benefits. As a result, the average SNAP benefit will increase for Fiscal Year 2022 beginning on Oct. 1, 2021.  This re-evaluation concluded that the cost of food was 21% higher today, than it was in 2006, when the plan was last evaluated. As a result, the average SNAP benefit will increase by $36.24 per person, per month.  This is $1.19 per day.  The change goes into effect October 1, 2021.  See SNAP and the Thrifty Food Plan | USDA-FNS
Emergency FoodShare Benefits for Food Replacement – Are you worried that food in your refrigerator may spoil if the power goes out?  What if you lose food due to fire or flooding?  Don't take chances with food that may be spoiled. FoodShare members can request help.  Current FoodShare members who lose food purchased with FoodShare benefits due to a flood, fire, or other household misfortune, can request the replacement benefits from the State of Wisconsin.  FoodShare Handbook states that loss of power for 4 hours or more can qualify as a household misfortune.  For more information … Emergency FoodShare Replacement Flyer.
---
---

---
---
provided by Fond du Lac and Sheboygan County FoodWIse program
Also visit their facebook page for weekly updates:  Extension Fond du Lac County Facebook page
---
COPING WITH COVID-19
---
FOOD PANTRIES
---
For more information on FOODWISE visit these links:
---
Health News from Around Wisconsin
---
Non-discrimination Statements
English:  USDA-Nondiscrimination-Statement English
Spanish:  USDA-Nondiscrimination-Statement-Spanish