Protect Your FoodShare Benefits
Feeding America Eastern Wisconsin has received multiple reports of scammers stealing FoodShare benefits this week. If you have guests reporting their benefits stolen due to card skimming, cloning, or related activities using federal funds, they can report their loss and potentially have those benefits replaced.
To report stolen benefits, you can use the Fraud Hotline or file a complaint with the Office of the Inspector General.
Below are additional resources on keeping your FoodShare benefits safe:
Choose a hard-to-guess PIN. Don't use repeating numbers, like 2222, numbers in a row, like 4567, or a pattern such as 1212. Don't use a birth date or birth year.
Keep your PIN secret. Cover the keypad when you enter your PIN. Do not share your PIN with anyone you don't want using your benefits to buy food for your FoodShare household.
Freeze your card between uses with the ebtEDGE website or mobile app. When your card is frozen, you and anyone else will be unable to use it. You will need to unfreeze it to make purchases again.
Block your card from being used on the internet if you don't shop for groceries online. You also can block out-of-state transactions if you are not traveling outside of Wisconsin.
Report lost or stolen cards immediately to QUEST Card Service at 877-415-5164.
---
---
The FOODWISE Program helps limited resource families and individuals choose healthful diets, prepare and handle food safety and become more food secure by spending their food dollars wisely.  FoodWIse website
FOODWISE provides research based education on:
Nutrition

Physical activity

Family meals

Preparing foods

Safe food handling, preparation and storage practices

Managing food resources

Thrifty shopping practices
Education is available for all age groups and learning abilities as well as for those who speak Spanish only.
---
---
North Central Extension food preservation newsletters:
---
VIRTUAL NEW FOOD ACCESS MAP … Brown, Door, Kewaunee, Manitowoc Counties    more information …
The University of Wisconsin-Madison Division of Extension-Brown County released the virtual NEW Food Access Map.  The objective of this map is to highlight places for households to obtain food in Brown, Door, Kewaunee and Manitowoc Counties.  The map focuses on these categories:  Community Gardens, Stores accepting EBT, Farmers Markets, Food Pantries, Grocery Stores, Cultural Grocery Stores and Meal Programs.
---
COVERING WISCONSIN … free local help to renew, apply for coverage, or find financial help with health insurance.  Covering Wisconsin … more information
---
See how FoodWIse is celebrating National Nutrition Month on social media: https://fb.watch/jf35Z1pbRg/
---
BADGERCARE/MEDICAID CHANGES COMING IN 2023-24   more information …
---
QUICK TIPS FOR FARMERS' MARKET VENDORS IN WISCONSIN   read more …
UPDATE: In December 2022, a Wisconsin judge ruled that individuals may sell homemade, shelf stable foods produced in Wisconsin directly to consumers in the state. The ruling expands a prior exemption for baked goods to include candies and fudge, doughnuts, dried products, and more. Questions? Call the Licensing Specialists 608-224-4923.
---
FoodWIse 2022 Impact Report – Door County  read more …
---
---
Preserve It Fresh, Preserve It

Safe

   more information …
---
Whole Grains: Good for Your Heart!
by Jace Purdy, FoodWIse Nutrition Educator
You've probably been told to eat whole grains. But what are they? Why are they important? Where are they found in foods?
What is a Whole Grain?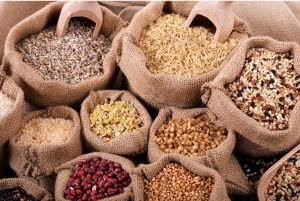 Whole grains are whole because we eat the whole thing, the whole piece of rice or corn or wheat OR we grind the whole seed into flour using all parts. Whole grain products have more fiber and important nutrients, such as B Vitamins, iron, folate, selenium, potassium, and magnesium.
Where do we find Whole Grains?
You can find whole grain versions of rice, bread, cereals, flour, and pasta on most grocery store shelves. Check the label. If the first ingredient is whole grain or "Whole Wheat Flour," that's good. The key word is WHOLE. Other common whole grains include brown rice, oatmeal, corn, popcorn, and quinoa.
Why do we want Whole Grains?
Whole grains are naturally higher in fiber and key vitamins and minerals. Fiber helps you feel full and satisfied, so you can maintain a healthy body weight. Diets rich in whole grains are linked to a lower risk of heart disease, diabetes, and certain cancers. Try making one simple swap: whole wheat bread instead of white, brown rice instead of white, or popcorn instead of potato chips. Enjoy whole grain foods AND the health benefits.
Recipes using Whole Grains:
Resources:
---
---
USDA Modernizes the Thrifty Food Plan, Updates SNAP Benefits
FoodShare benefits are based on the Thrifty Food Plan, which represents the cost of a nutritious, practical, cost-effective diet prepared at home for a family of four, which is defined in law as an adult male and female, ages 20-50, and two children, ages 6-8 and 9-11. The Thrifty Food Plan was introduced in 1975 and updated in 1983, 1999, and 2006.  Aside from the pandemic relief, there had been no increases in SNAP benefits since 2006.  On August 16, 2021, the U.S. Department of Agriculture (USDA) released a re-evaluation of the Thrifty Food Plan, used to calculate Supplemental Nutrition Assistance Program (SNAP) benefits. As a result, the average SNAP benefit will increase for Fiscal Year 2022 beginning on Oct. 1, 2021.  This re-evaluation concluded that the cost of food was 21% higher today, than it was in 2006, when the plan was last evaluated. As a result, the average SNAP benefit will increase by $36.24 per person, per month.  This is $1.19 per day.  The change goes into effect October 1, 2021.  See SNAP and the Thrifty Food Plan | USDA-FNS
Emergency FoodShare Benefits for Food Replacement – Are you worried that food in your refrigerator may spoil if the power goes out?  What if you lose food due to fire or flooding?  Don't take chances with food that may be spoiled. FoodShare members can request help.  Current FoodShare members who lose food purchased with FoodShare benefits due to a flood, fire, or other household misfortune, can request the replacement benefits from the State of Wisconsin.  FoodShare Handbook states that loss of power for 4 hours or more can qualify as a household misfortune.  For more information … Emergency FoodShare Replacement Flyer.
---
---

---
---
provided by Fond du Lac and Sheboygan County FoodWIse program
Also visit their facebook page for weekly updates:  Extension Fond du Lac County Facebook page
---
COPING WITH COVID-19
---
FOOD PANTRIES
---
For more information on FOODWISE visit these links:
---
Health News from Around Wisconsin
---
Non-discrimination Statements
English:  USDA-Nondiscrimination-Statement English
Spanish:  USDA-Nondiscrimination-Statement-Spanish