---
Extension Farm Management Friday webinars
Join University of Wisconsin-Madison Extension's Farm Management Fridays webinars to learn about tools and strategies to build your farm business, and how to develop skills that cultivate a sense of peace and well-being.
Farm Management Fridays webinars are a part of Extension's Farm Ready Research winter programming for farmers and ag professionals to improve business profitability and lifestyles through informed decision-making. There is no charge to participate in the sessions, but pre-registration is required to allow access to the session. Register online at go.wisc.edu/FarmReadyResearch.
---
PRIVATE PESTICIDE APPLICATOR CERTIFICATION



Private Applicator:  A person who applies pesticide to produce an agricultural commodity AND pesticides are applied on property that they own, rent or their employer owns or rents. If an applicator does not meet BOTH parts of the definition, they are considered commercial applicators. Example of commercial applicator: Lawn care company or
County Highway employee.
Manual Fee:  $40 — must be purchased online at the UW PAT Store:  https://patstore.wisc.edu/secure/default.asp   Scroll down to Private Applicator Training; then select "General Farming 100/101".  A paper mail order form is available – mail order form – a check must be mailed with this option.  
—————————————————-
Pesticide Applicator Training
IN-PERSON TRAINING AND TEST DATES

If you are interested in attending an in-person training, the closest ones are being offered on these dates:

February 15 9:00 AM Training will be held at Extension Brown County, 2019 Technology Way, Green Bay, WI 54311
February 16  9:00 AM Training will be held at Farm Wisconsin Discovery Center, 7001 Gass Lake Rd, Manitowoc, WI 54220
TO REGISTER:  Visit https://go.wisc.edu/ph5u37
Cost: $10.00
Please bring a #2 pencil, calculator, and your manual. Cell phones will not be allowed during the test. You will have to show ID when handing in the test.
Everyone must purchase a manual online.  They are no longer sold at the Extension office! – To order, please visit https://fyi.extension.wisc.edu/pat/
SELF-STUDY:  Purchase a manual on-line at the UW PAT Store.  Each person being trained must purchase a manual.  You then study the manual; when you are ready, contact the Extension office to schedule a date and time to take the test. You must get a 70% passing grade with this option.  Manuals must be purchased on-line from the PAT Store.
ON-LINE TRAINING: 

Purchase a manual on-line at the UW PAT Store. 

This online training can take the place of in-person training. From time of starting you will have 14 days to complete the training. Please keep the email with link to get back to the training if you leave it. Online training can be taken at any time. You will have access to training for 120 days of registration.  Once you have completed the training you will receive a Completion Receipt that you must show to the test proctor to be coded as attending a training. Register For Online Training   https://patstore.wisc.edu/secure/browse_cat.asp?category_id=30
Remember … After completing the on-line training or self-study, you must TEST IN-PERSON at the Door County Extension office. You must call ahead to schedule a time to take the test!  920-746-2260.  With a passing grade, you will receive a 5-year certification.
What to bring on test day:

Wisconsin requires that any person taking a certification exam must provide positive identification (a driver's license) and know their social security number.  Other acceptable forms of ID are: a photo ID, a Birth Certificate plus another form of ID, and your Social Security Number.
Your manual with the registration form in the front of the book (will be collected on the day of your test). If you have a "Completion Receipt" from the on-line training, bring that, also.
A pocket calculator for the exam, if you think you will need one. Cell phones are not allowed during testing!

If you have questions, please call the Extension Door County office at 920-746-2260.

Another option for testing:
Self-Study Test Out Dates at the Kewaunee County Fairgrounds  

January 26, 9:00 am
February 23, 9:00 am
March 23, 9:00 am
April 6, 9:00 am
Must register by calling the Kewaunee County Extension Office at 920-388-7141 or send an email to: erin.dahle@wisc.edu
Must bring a #2 pencil, ID, calculator, and Social Security Number
---
FREE fillable rental arrangement forms for your farm. Written, reviewed, and edited by members of the North Central Farm Management Extension Committee (NCFMEC).
---
---
---
PROGRAMS / EVENTS:
Five 
Minute Farm Focus videos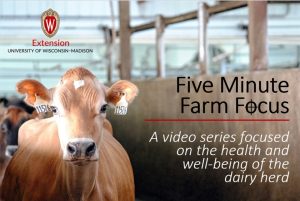 Link to videos on the Kewaunee Extension Agriculture website
---
WINTER VENTILATION FOR CALVES
Take a look at calf housing to determine what calves need to stay healthy during cold weather months.   Read more.
————————————-
Mastitis Management:  Don't Forget Your Heifers!

  
Dairy heifers represent a major investment in a dairy herd's future genetics, production, and financial welfare. Prevention and treatment of mastitis in all ages of heifers is crucial to your farm's future profitability. Many times, heifers are forgotten on the farm. They live away from the main farm where they are not cleaned and bedded as often as the milking herd. This can cause huge mastitis issues when they become a productive member of the milking string.  Read more.
———————————–
Agriculture Works Hard for Door County

 

Read more … 
---
---
 RELATED LINKS OF INTEREST
---
Farming News from Around Wisconsin
---
STAFF
If you have any questions regarding Agriculture, Dairy, Soils and Crops in Door County, please contact: 

Aerica Bjurstrom
Dairy Educator – Regional (Brown, Door, Kewaunee)
Office located in Kewaunee County – (920) 388-7138
aerica.bjurstrom@wisc.edu