---
Heart of the Farm – Women in Agriculture Coffee Chat
University of Wisconsin-Madison Division of Extension, Heart of the Farm-Women in Agriculture will be hosting a Coffee Chat:
Thursday, Feb. 3, 2022, 12-1 p.m. Sam and Jenn Zimmerman owners of On-Q Holsteins, in Marathon County will discuss how they have diversified their Dairy Farm Enterprise to promote local farming businesses.
Register for this free virtual workshop:  Registration form
Once registered, you will receive an email confirmation containing information about joining the meeting. Registered participants will only need the meeting website link or phone number to participate in the meeting.
The Heart of the Farm-Women in Agriculture Coffee Chats series is an Extension program that addresses the needs of farm women by providing education on farm business topics, connecting them with agricultural resources and creating support networks. Support and funding provided by UW-Madison Division of Extension, the University of Wisconsin Center for Dairy Profitability, and Greenstone Farm Credit Services.
For more information on the Coffee Chats Series or the Heart of the Farm Program, please go to the HOF website https://farms.extension.wisc.edu/programs/heart-of-the-farm-women-in-agriculture/, call your local UW-Madison Division of Extension County office, or contact Jenny Vanderlin, jenny.vanderlin@wisc.edu, 608-263-7795.
---
EXTENSION WEBINARS PROVIDE TIPS FOR MAKING FARM BUSINESS DECISIONS
As the new year approaches, many people tend to re-evaluate their financial situation and decide if, or how, they need to make changes. This holds true for farm businesses, also. The University of Wisconsin-Madison Extension is hosting a series of webinars for farmers and agribusinesses to improve business profitability and lifestyles through informed decision-making.
Farm Management Fridays webinars are a part of Extension's Farm Ready Research winter programming for farmers and ag professionals. There is no charge to participate in the sessions, but pre-registration is required to allow access to the session. Register online at go.wisc.edu/FarmReadyResearch.
"Farmers are still recovering and trying to move forward from the COVID-19 pandemic," said Katie Wantoch, Extension Dunn County Agriculture Educator. "Whether it's the volatility in dairy, crop or livestock prices, supply chain disruptions, or changes in land values, farmers are under stress and have a lot on their mind. The January session focus on financial aspect of farm management."
January topics and presenters include:
January 7, 2022: Farm-gate Economic Outlook. This webinar will focus on farm-scale economic outlook and actions for farms in 2022 with a panel discussion by Extension Farm Management Specialists Paul Mitchell, Ag and Applied Economics & Renk Agribusiness Institute, Mark Stephenson, UW Center for Dairy Profitability, Brenda Boetel, UW-River Falls.
January 21, 2022: Farm Pulse Program, Make Sense of Financial Management. Long-term success for a farm business begins with a strong financial foundation. Kevin Bernhardt, Extension Farm Management Specialist and Katie Wantoch, Extension Educator, Dunn County will discuss the Farm Pulse Program, which provides a framework for informed decision-making; making sense of financial information, so you know where to start immediately.
January 28, 2022: Don't Gamble the Farm Away, Take Charge of Your Future Today! In this webinar, Kevin Bernhardt, Extension Farm Management Specialist and Katie Wantoch, Extension Educator, Dunn County will discuss how to define risk and risk management, manage risks, and self-analyze your own tolerance for risk. We will also highlight the process for developing a risk management plan for your farm business.
---
2022 CAFO TRAINING PROGRAM
Jointly sponsored by UW Madison Division of Extension's Conservation Professional Training Program and Wisconsin DNR, these workshops are designed for livestock operations near or at WPDES permit size (CAFOs) — owners/management and key staff, their agronomic and engineering consultants, and agency staff and others who work with these operations.  The format has changed due to the pandemic. There are four sessions that you can join remotely. To view a detailed agenda of each session, use this link: https://www.browncountywi.gov/departments/extension-brown-county/agriculture/forms/ (Please check back soon for a more detailed agenda)
Tuesday, February 15
9:30-11:30 am Nutrient Management
1:30-3:30 pm Engineering
Wednesday, February 16
9:30-11:30 am Regulatory Updates
1:30-3:30 pm Groundwater
Registration fee (per person): $15 one session, $25 for series, late fee is $20 per person for both options.  Registration link …
Once you register, you will receive a confirmation email. The link to participate in the session will be emailed to you when payment is confirmed. If payment is not received, you will not receive a link to participate.
You may use one form to register all employees attending from the same organization if they are using the same device during the Zoom meeting. Please fill out a separate registration if they will be using separate devices to ensure each person gets their individualized Zoom link. One payment may be made for multiple people attending from the same organization (register all people from the organization, then complete one payment at the end).
Please remember, the price is PER PERSON, not per farm.
---
PRIVATE PESTICIDE APPLICATOR CERTIFICATION



Intended for persons requiring certification or re-certification in order to apply restricted-use pesticides.  A private applicator is a person applying pesticides to produce an agricultural product (including forestry, nursery or greenhouse) on land owned or rented by the person or the person's employer. Required for private applicators who apply restricted use pesticides. Examples of private applicators include a farmer applying pesticides to his crops on his owned or rented land or an employee of that farmer doing the same; greenhouse or nursery workers making pesticide applications on the land or in the greenhouses of their employer.
Private and commercial pesticide applicators with certifications that expire January 31, 2020-November 30, 2021, can continue to operate as a certified pesticide applicator until December 31, 2021.  If you are not sure when your certification expires, please call or visit this website.
If you plan to come in to purchase a manual, please call before you come in to be sure the office is staffed.  Thank you!  920-746-2260.
---
Pesticide Applicator Training Options:
COMPUTER TRAINING COURSE (approx. 4-hour training): Purchase a manual from the Door County Office or the UW PAT store. https://patstore.wisc.edu/secure/default.asp  … under Private Applicator, select "General Farming 100/101". Participants only need a 50% passing grade.  This training is free of charge for those that have purchased the PAT manual from either the UW PAT store or from the Door County Extension office. (Please note: this is for online training only, it does not include the exam. Please contact the Extension office to schedule an exam time after attending the on-line training. You will need to print your Completion Receipt and bring it to your exam.) NOTE: 

You will have 7 days from the start of this training course to complete it. 


WEBINAR / ZOOM TRAINING: The PAT program is offering 5 (five) Zoom training times. Private applicators are highly encouraged to use this option.  Purchase a manual from the Door County Office or the UW PAT store.  https://patstore.wisc.edu/secure/default.asp … under Private Applicator, select "General Farming 100/101". Participants only need a 50% passing grade. These are live programs and are interactive.  Zoom training dates to choose from:  Dec 7, 2021, Jan 25, 2022, Feb 15, 2022, March 15, 2022, or April 5, 2022.  Webinars start at 9:00 am and end at approximately 2:00 pm.
SELF-STUDY: Visit the Extension Office in the Government Center, 421 Nebraska Street, Sturgeon Bay, to purchase a manual ($30/person) or purchase one on-line at the UW PAT Store.  Each person being trained must purchase a manual.  Manual supplies are limited at the Door County office.  You then study the manual; when you are ready, contact the Extension office to schedule a date and time to take the test. You must get a 70% passing grade with this option.
Remember … After completing the on-line training or self-study, you must TEST IN-PERSON at the Door County Extension office. You must call ahead to schedule a time to take the test!  With a passing grade, you will receive a 5-year certification.
What to bring on test day:
Wisconsin requires that any person taking a certification exam must provide positive identification (a driver's license) and know their social security number.  Other acceptable forms of ID are: a photo ID, a Birth Certificate plus another form of ID, and your Social Security Number.
Your manual (8th edition) with the registration form in the front of the book (will be collected on the day of your test). If you have a "Completion Receipt" from the on-line training, bring that, also.
A pocket calculator for the exam, if you think you will need one. Cell phones are not allowed during testing!
If you have questions, please call the Extension Door County office at 920-746-2260.
---
FREE fillable rental arrangement forms for your farm. Written, reviewed, and edited by members of the North Central Farm Management Extension Committee (NCFMEC).
---
---
---
PROGRAMS / EVENTS:
Five 
Minute Farm Focus videos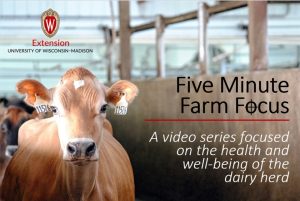 The Five Minute Farm Focus series is a collection of videos recorded at local farms in northeast Wisconsin. Dairy farms are a complex network of management decisions that involve multiple people, tools, and practices. The videos focus on one management aspect of a farm that improves the health and well-being of the dairy herd. Each video is approximately five to six minutes long, but they vary in length. The inaugural video features socially stable calving pens at Junion Homestead Farm near Casco. Click the link below to watch the video.  https://www.youtube.com/watch?v=Rq1SBKDx_EQ
Link to other videos on the Kewaunee Extension Agriculture website
—————————————
WINTER VENTILATION FOR CALVES
Take a look at calf housing to determine what calves need to stay healthy during cold weather months.   Read more.
————————————-
Mastitis Management:  Don't Forget Your Heifers!

  
Dairy heifers represent a major investment in a dairy herd's future genetics, production, and financial welfare. Prevention and treatment of mastitis in all ages of heifers is crucial to your farm's future profitability. Many times, heifers are forgotten on the farm. They live away from the main farm where they are not cleaned and bedded as often as the milking herd. This can cause huge mastitis issues when they become a productive member of the milking string.  Read more.
———————————–
Agriculture Works Hard for Door County

 

Read more … 
---
ARTICLES OF INTEREST 
---
---
---
 RELATED LINKS OF INTEREST
---
Farming News from Around Wisconsin
---
STAFF
If you have any questions regarding Agriculture, Soils or Crops in Door County, please contact:
 
Vacant
UW-Madison Division of Extension Door County
County Government Center
421 Nebraska Street
Sturgeon Bay, WI 54235
Phone: 920-746-2263 /   Fax: 920-746-2531
Office Hours: M-F 8 am to 4:30 pm
Email: